GLOBAL HORSE EVENTS
There is much to experience in Portugal! The Quinta regularly organises theme weeks, which can be booked via Horse Pass. More information below. I say do it!


About Quinta do Falcao
Quinta do Falcão is a Portuguese farm/stable with Lusitano horses. It has a large yard with additionally chickens, goats and a donkey. Rui and Sandra Salvador, Pedro Teixeira Farto and their team quickly make you feel at home. Every evening everyone sits together at the table for dinner. The horses are downright amazing, so well trained, so willing to work and fine and comfortable besides. Not least because of the great training of both Rui Salvador and Pedro Teixeira Farto, both horse men at heart. The quinta is not very luxurious like some quintas, but everything is there. They have a lot of land, so across the road is a museum and a chapel where you can even get married. It is an absolute recommendation to try out Working Equitation. If you want to do it at all, do it here, as the horses are fantastic at it and all the resources are there. Finally, an outdoor ride to the river is bliss in itself.
NOVEMBER 2023 - GOLEGA HORSE FAIR - programmes with Quinta do Falcao
Every November is the Golega Horse Fair where ten days honour the Lusitano. It is one big party, with shows, competitions (Jumping, Dressage, TREC, Horseball, Ladies Saddle and more). Around the arena, the Portuguese parade their Lusitano horses from early morning until well into the night. There are numerous bars and restaurants, stalls selling horse gear and clothes, chestnuts being smoked and the drink Ginja being served. A completely unique horse event and, as far as Horse Pass is concerned, the most beautiful in the world.
In consultation with Quinta do Falcao, Horse Pass makes a special package every year in which you stay at Quinta do Falcao on a full board basis (breakfast/lunch/dinner) and during your stay are taken once to the Golegã Horse Fair, where, at his stables right next to the arena, you get to take off and ride with all the Portuguese on the manga (the riding track around the arena). Before and after the riding, you will be welcome on his private floor on the first floor overlooking the event, and afterwards you will enjoy an unadulterated Portuguese dinner at his restaurant next door. Excludes flights, rental car or pick-up & transfer, travel/cancellation insurance (compulsory), personal expenses and gratuities.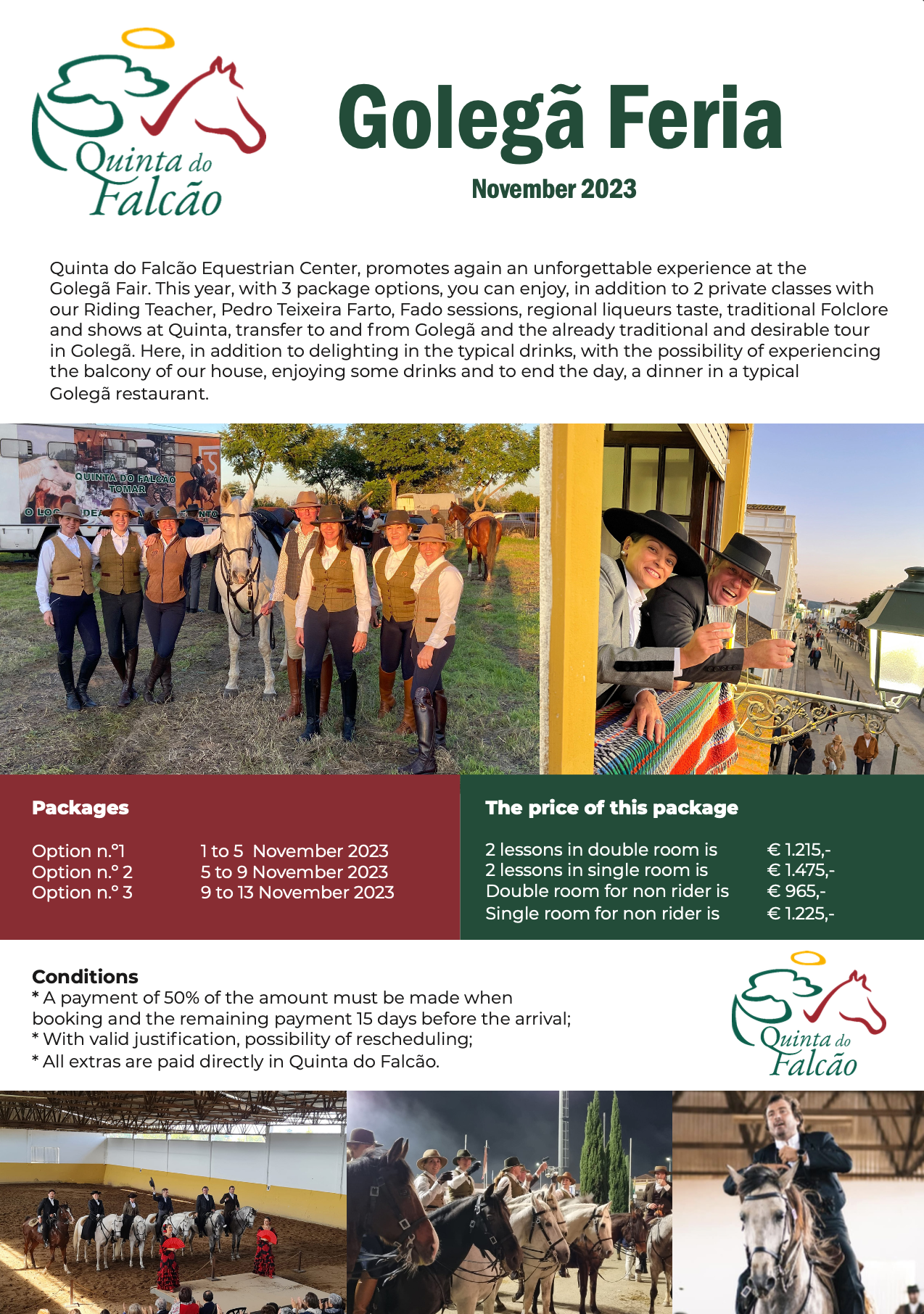 JULY 2023 - TABULEIROS FEIST
This is an event that takes place only every four years. It is one of the largest and oldest in the country and is the festival that attracts the most visitors in Portugal, about a million people just on the day of the Tabuleiro`s Procession.
It is also considered one of the biggest festivals in the world.
Tabuleiro`s Procession: Traditionally, the plate is carried by a girl dressed in white who has to reach the heights. It is decorated with colourful paper flowers, wheat cobs, 30 loaves of bread of 400 grams each. The top of the sign also consists of a crown topped with the cross of Christ or the dove of the Holy Spirit.
Decorated streets: Another of the oldest traditions and origins of Tomar present in the Feast of Trays, are the carpets of paper flowers in the streets of the city. The streets of the historic centre and nowadays a bit of the whole city are decorated with flowers that give colour and joy to the Templar city. These streets are in a healthy competition to see which one is the prettiest.
Butler's Parade: The origin of the Butler's Parade" is not exactly known, but it is suspected to have been originally a hymn of plenty. Decorated with necklaces and flower earrings, the oxen parade through the city streets to the sound of rockets, gaiteiros and marching band and accompanied by some knights and some carriages carrying the Butlers and guests.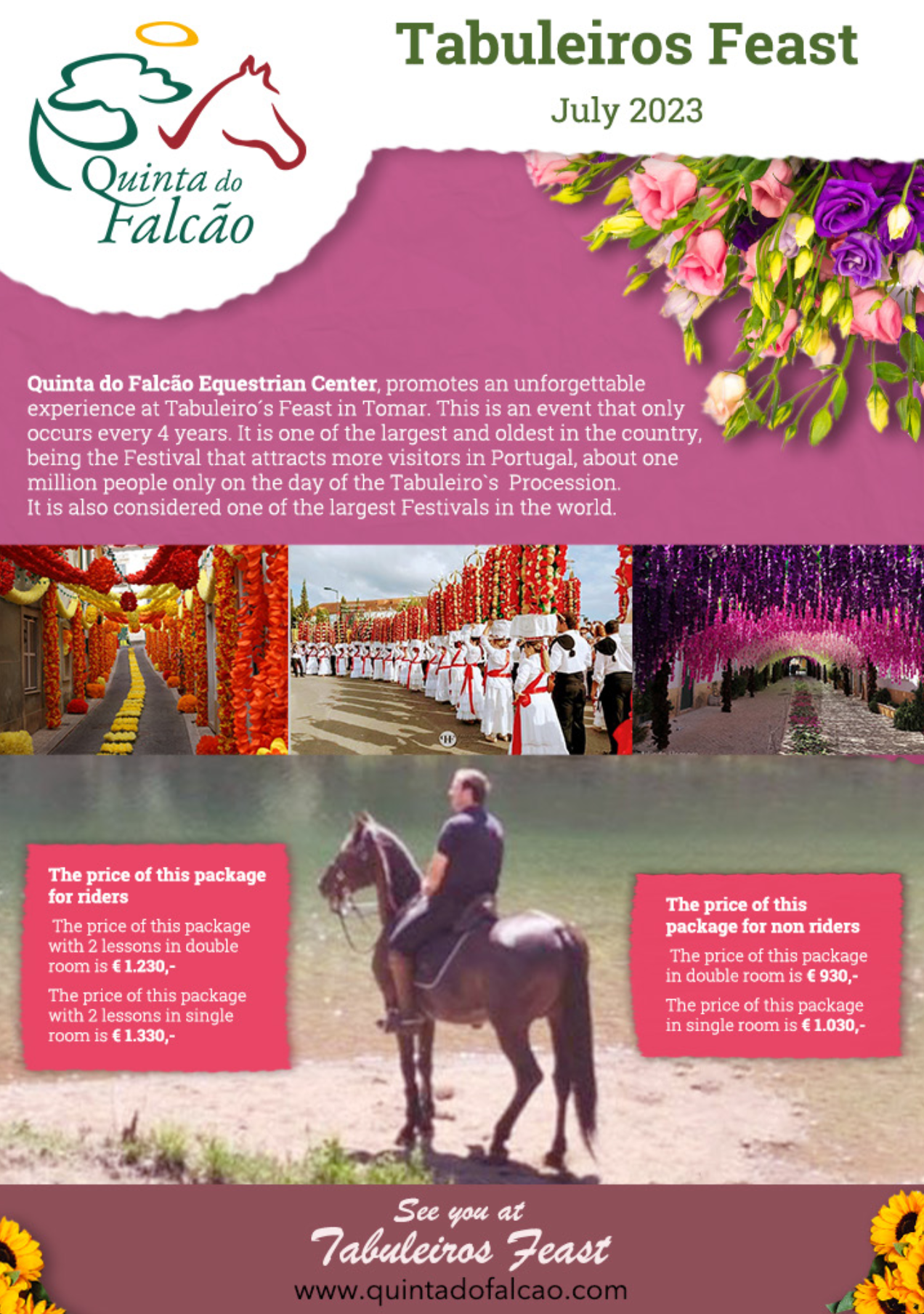 Other activitiesThere is more to see in the surrounding area, especially if you have a hire car.
Convent of Christ in Tomar (World Heritage), an incredibly beautiful castle on a mountain, built by the Templars who fought and won the Muslims from TomarAlmourol Castle or the Sanctuary of FátimaThe great water dam of Castelo de Bode less than 5km from the QuintaA wine and olive tasting session with explanation and visit to cellar and mill, horseback ride through the vineyard and dinner on site (book in advance)A cattle farm/quinta visits with lunch & dinner at the farmField trip to the river Zézere with wading through the river and a picnic beside itMedieval procession of the Templars, riding on horseback in costume and medieval dinnerCortejo do Mordomo at Festa dos Trabuleiros, horseback ridingGolega Horse Fair, riding on horseback over the manga in Golega
PARTNERS
It is possible to join various parts of Global Horse Promotion as a partner.
Support the children's weeks or the social media workshops and thus be mentioned to more people on social media. Or put your products to use during the workshop.
Perhaps you have a great story for the podcast or an idea for a series on a particular topic like now recently the series on Crossbreeding with Lustitanos and Warmblood horses.
WHAT WE OFFER
Promoting company on social media and in podcast
Creating giphys for stories
Powered by mentions possible at podcasts, workshops and clinics
Listing on EHS website as a partner
Listing on printed material
Possibility of using products for workshops, clinics, podcasts, etc.
Reaching international audiences
Expressing a positive message about horse welfare and sport
Encouraging youth
Unique opportunities abroad with the workshops and kids' weeks
Promotion in our stand at events in the Netherlands; Indoor Brabant, Go Social Party, Horse Event, Outdoor Gelderland.
Our current partners;
Main partners Portugal
Quinta da Falcao accommodation + accommodation partner Portugal

Horse Pass travel and flights
Manege de Paardenhoeve accommodation clinics Netherlands
Stud farm the Hoge Ginkel podcast series on crossbreeding
Excellent Horse products for the workshop
Hypostore Riding gear, boots, caps
Interested in Global Horse Events?
We will be happy to tell you all about it. Call us or send a message, and we will schedule an appointment.
Satisfied customers
Real experiences
Ready-made solutions
For everyone who wants to get ahead
Kickstart
Are you ready to accelerate and take new steps? Do you want your company or brand to fully focus on growth, seize all opportunities that present themselves and generate more turnover and brand awareness? Then the KICKSTART is definitely for you!
Workshops
Social media workshops for entrepreneurs and individuals. So that no one has to be left behind in the speed of this new way of marketing! Check out our range of workshops.